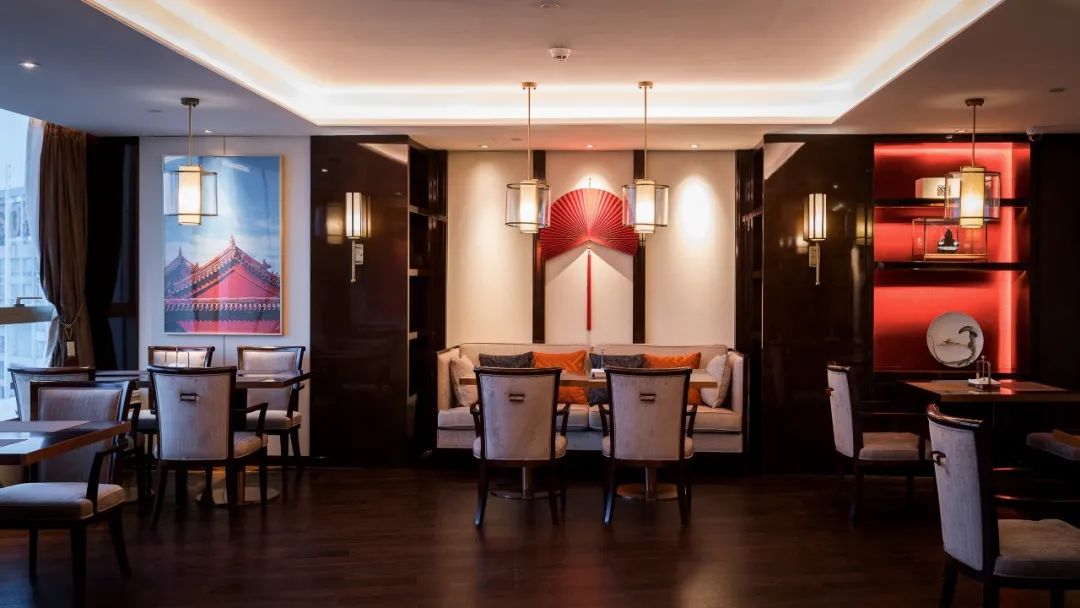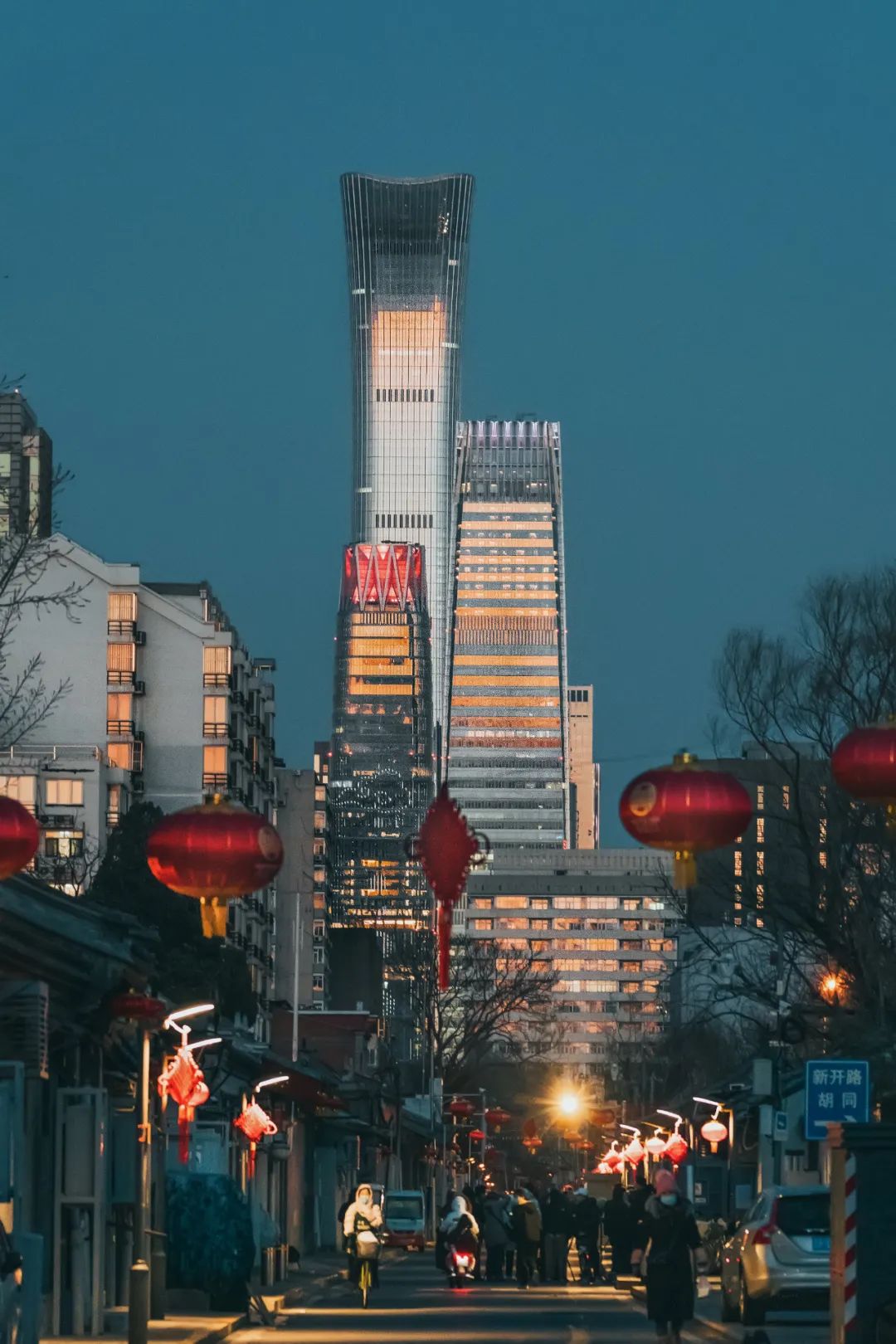 北京,一座有着三千多年历史的古都,拥有最好的经济资源和人才资源。现代的北京,作为中国首都,以其繁华资源,政治中心的地位,被国人称为"皇城 · 帝都"。

Beijing, an ancient capital with a history of more than 3,000 years, has the best economic resources and human resources. Modern Beijing, as the capital of China, is known as the "Imperial City · Imperial Capital" by Chinese people for its prosperous resources and political center status.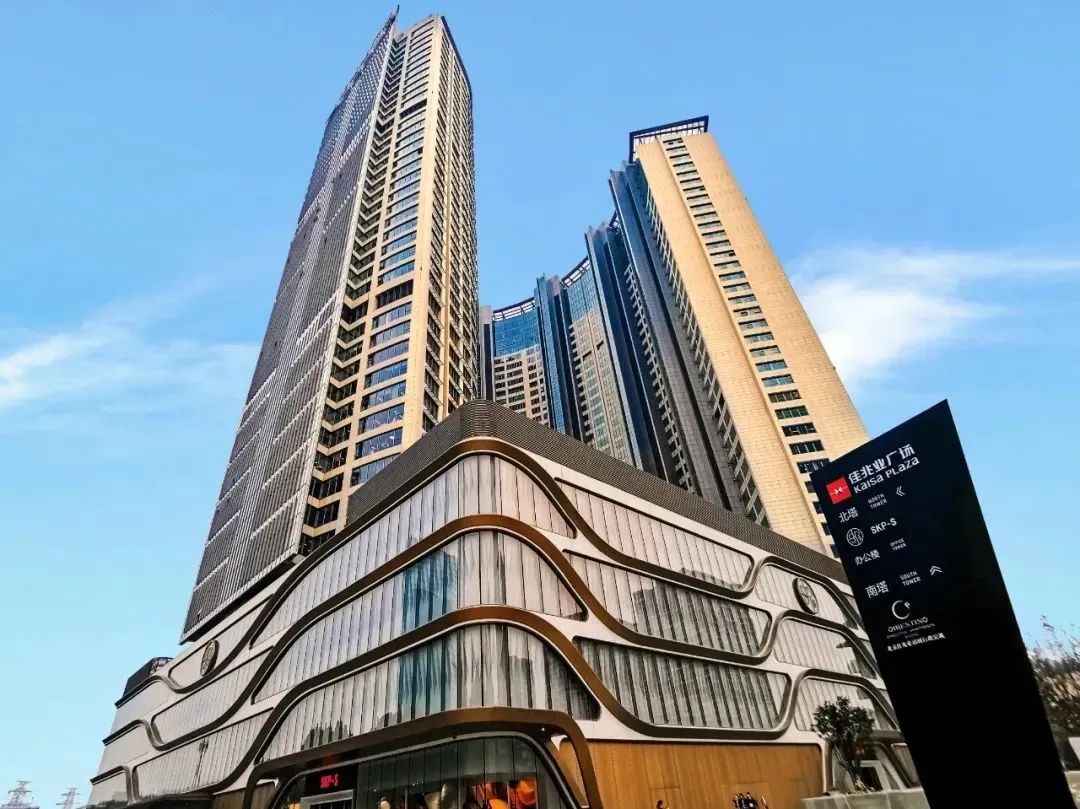 本项目以北京千年文化底蕴作为思考的出发点,定制一场私人高阶生活盛宴,通过京城独有的包容与豪迈,创造了一次精神赋筑灵魂的京韵场所。

在寸土寸金的繁华城央,北京耀辉置业有限公司-南楼会所在北京最"壕"商场SKP的上层,这里云集外企高管,企业主等达官显贵。

This project takes the cultural heritage of Beijing for thousands of years as the starting point of thinking, customizing a private high-end life feast, creating a Beijing charm place with spirit and soul through the unique tolerance and courage of Beijing.

In the middle of the bustling city, Beijing Kaisa Plaza - South Tower is located on the upper floor of SKP, the most "luxury" shopping mall in Beijing, where foreign executives, business owners and other dignitaries gather.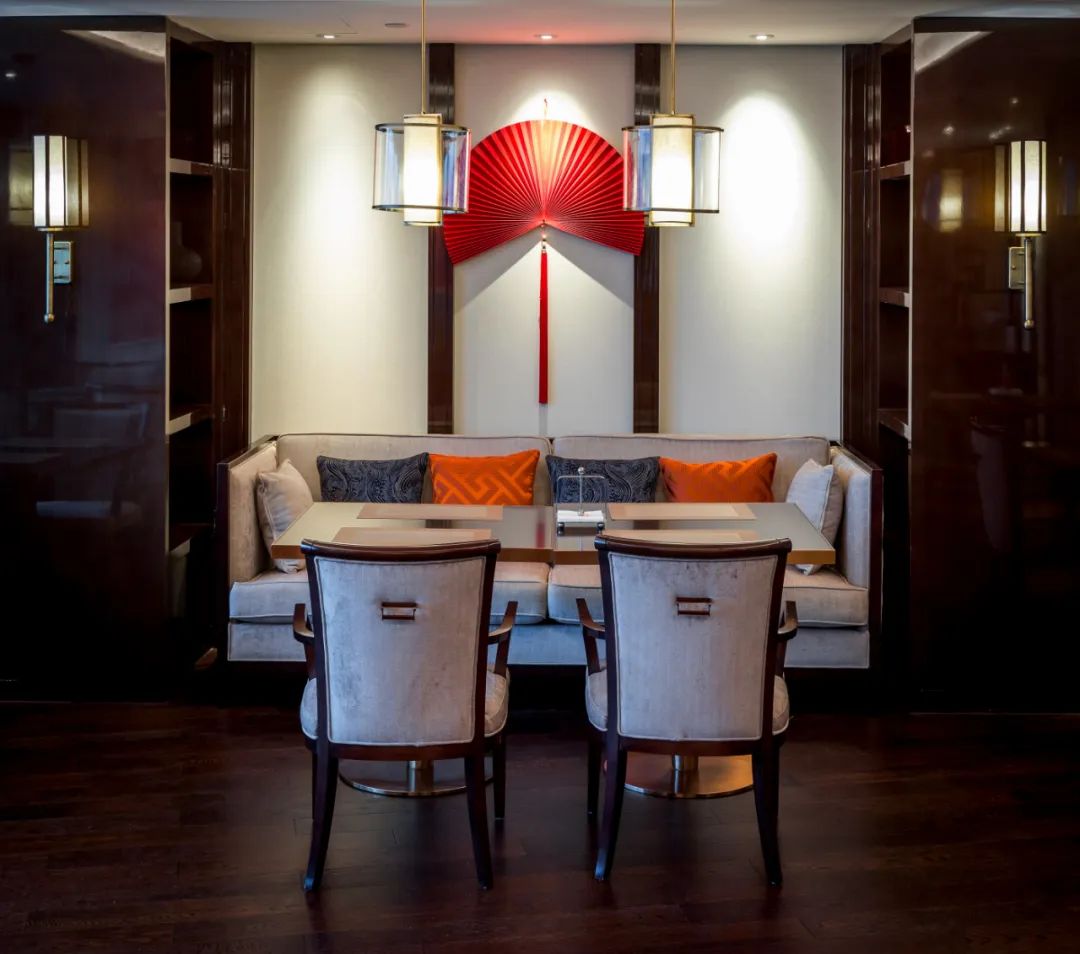 F35层,是早餐厅/咖啡厅,中式高雅在这里显得尤其雅致大方,OE设计师运用大量的木饰,将空间打造成气质与质感并存的用餐空间,少许的中国红作为点缀亮点,韵味十足。

F35 floor, is the morning restaurant/coffee shop, Chinese elegance is particularly elegant and generous here, OE designers use a lot of wood ornaments, the space into the coexistence of temperament and texture of the dining space, a little Chinese red as the ornament of highlights, full of charm.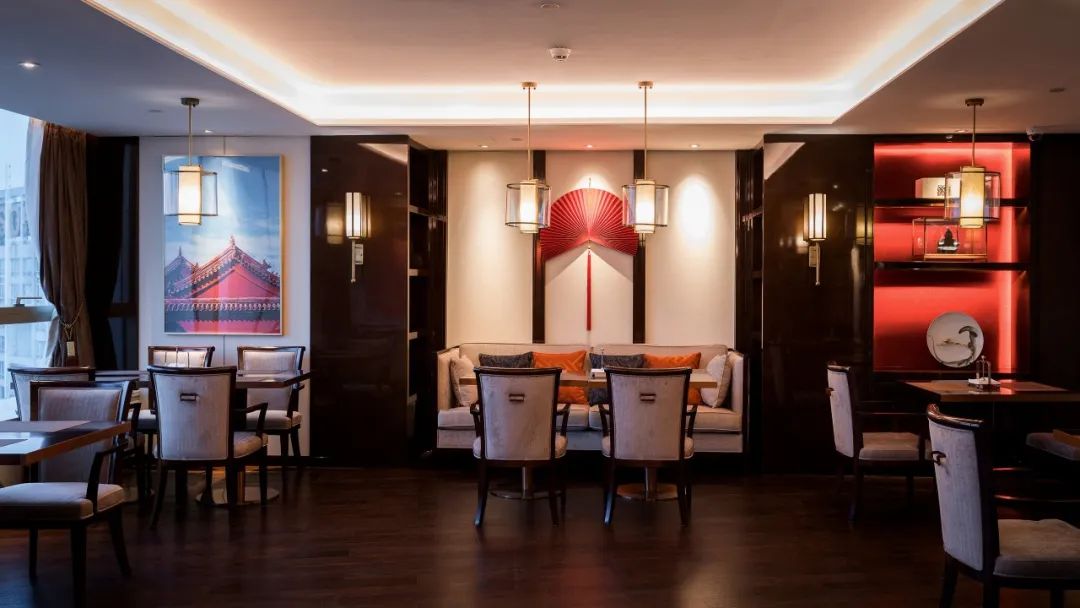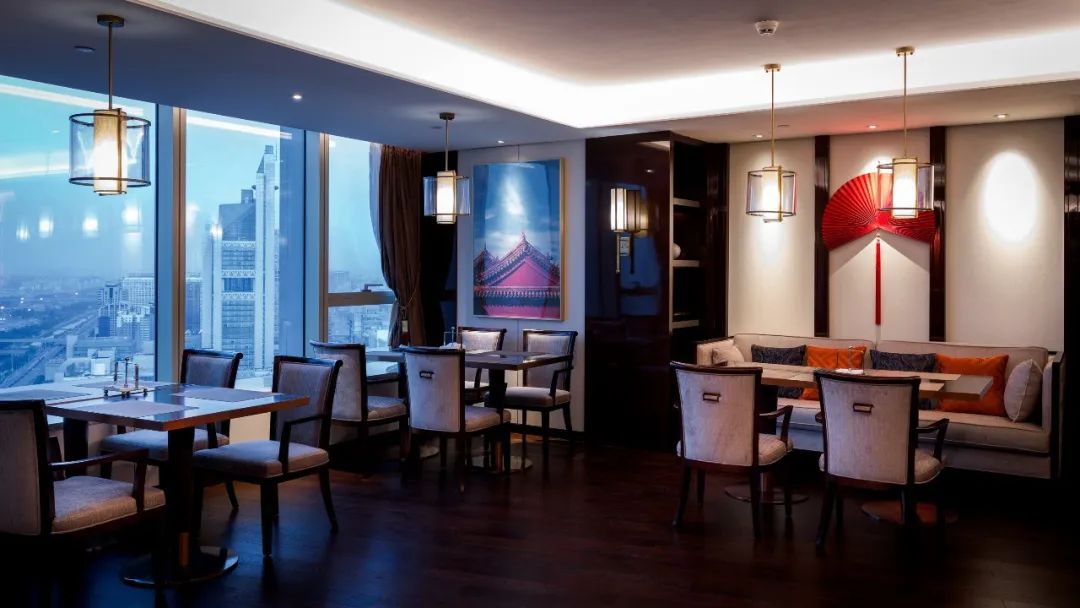 越过一个极具故事感的玄关,光影扫过纯手工打造的宋风青绿山水画,透过前景翠绿的迎客松,古典的中式氛围感拉满。

Across a story-like porch, light and shadow sweep the hand-made green landscape painting of Song Dynasty. Through the green greeting pine in the foreground, the classical Chinese atmosphere is filled with a sense of charm.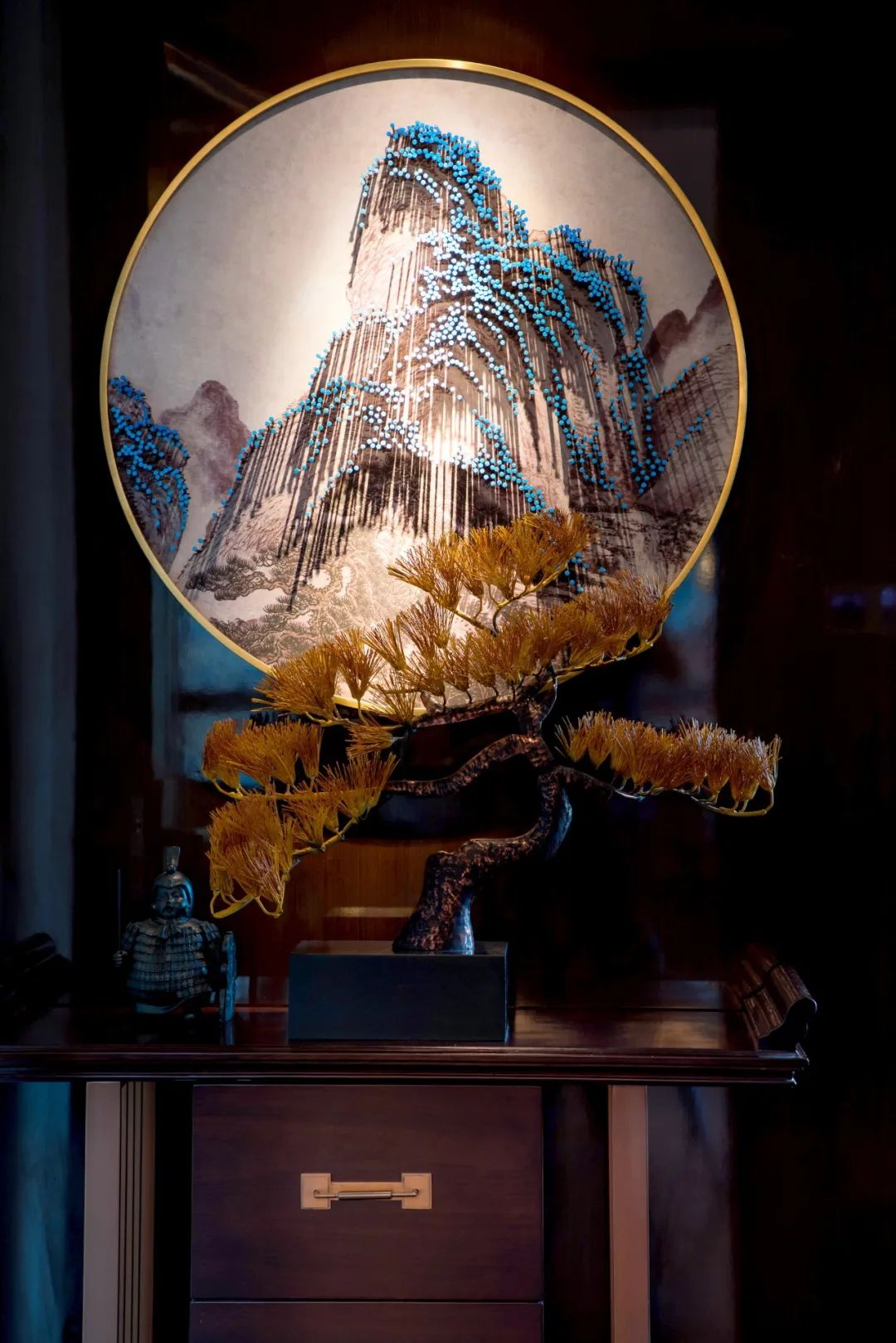 重峦叠嶂的山峰辅以钉子,加强山峰的轮廓,巧妙运用钉子装饰效果,寓不断攀升的人生态度。

The huge mountain is supported by nails, which enhances the outline of the mountain, and skillfully uses nails to decorate the effect to symbolize the ever-climbing attitude towards life.
艺术源于生活,背墙悬挂的是著名古建筑摄影师苏唐诗的摄影照片,故宫红墙琉璃瓦,将空间的格调引致高雅。
Art comes from life. On the back wall are the photos of famous ancient architecture photographer Su Tang's poems, and the glazed tiles on the red walls of the Forbidden City bring elegance to the space.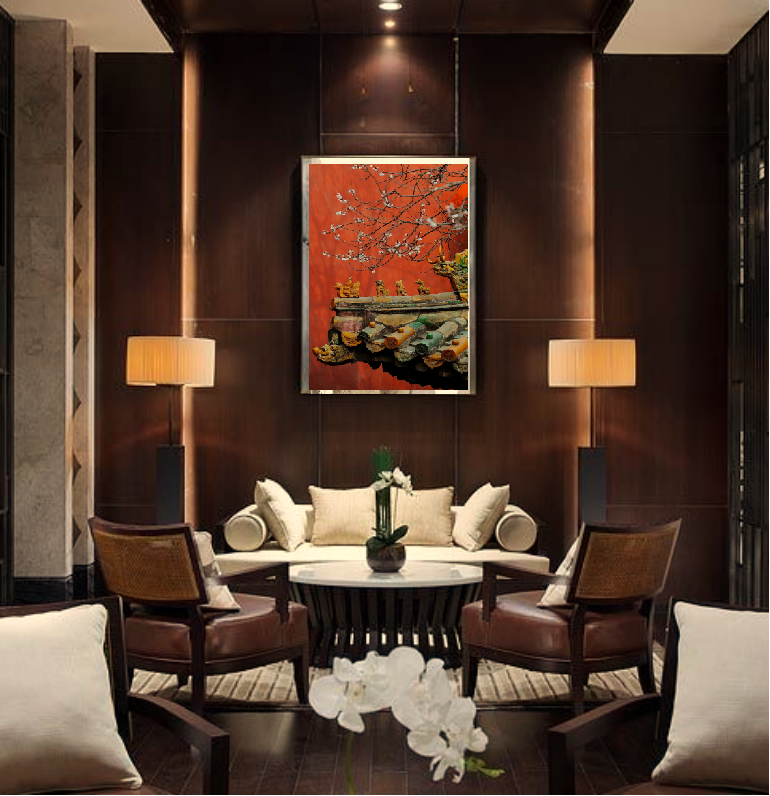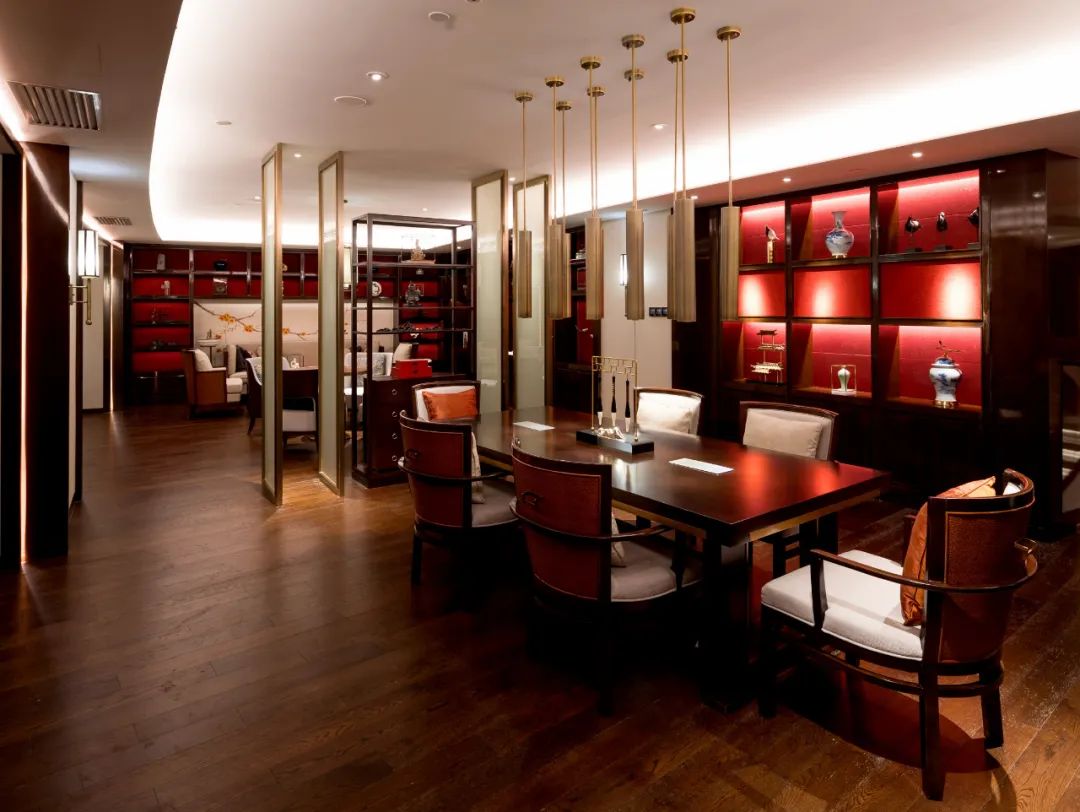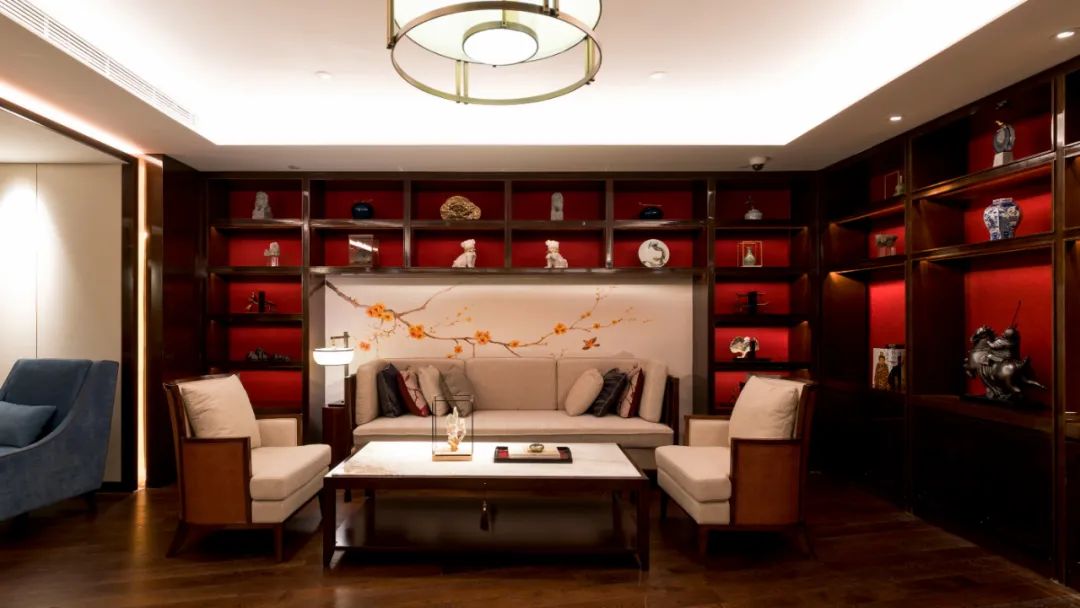 为了呼应北京城"琉璃""红墙"的元素,OE设计师,打造了一面原创展示墙,楼梯转角,尽显皇城的讲究与精致,红光与高阁相交,迸发出醉人的高级感,格中点点装饰,让人感受扑面而来的电影感,未完待续的故事,等待客人的谱写。
In order to echo the elements of "glass" and "red wall" in Beijing, OE designers have created an original display wall, the corner of the stairs, showing the imperial city's attention and delicacy, red light and Gao Ge intersection, bursting out of the intoxicating sense of senior, little decorations in the box, let a person feel the sense of the movie, unfinished story to be continued, waiting for the guests to write.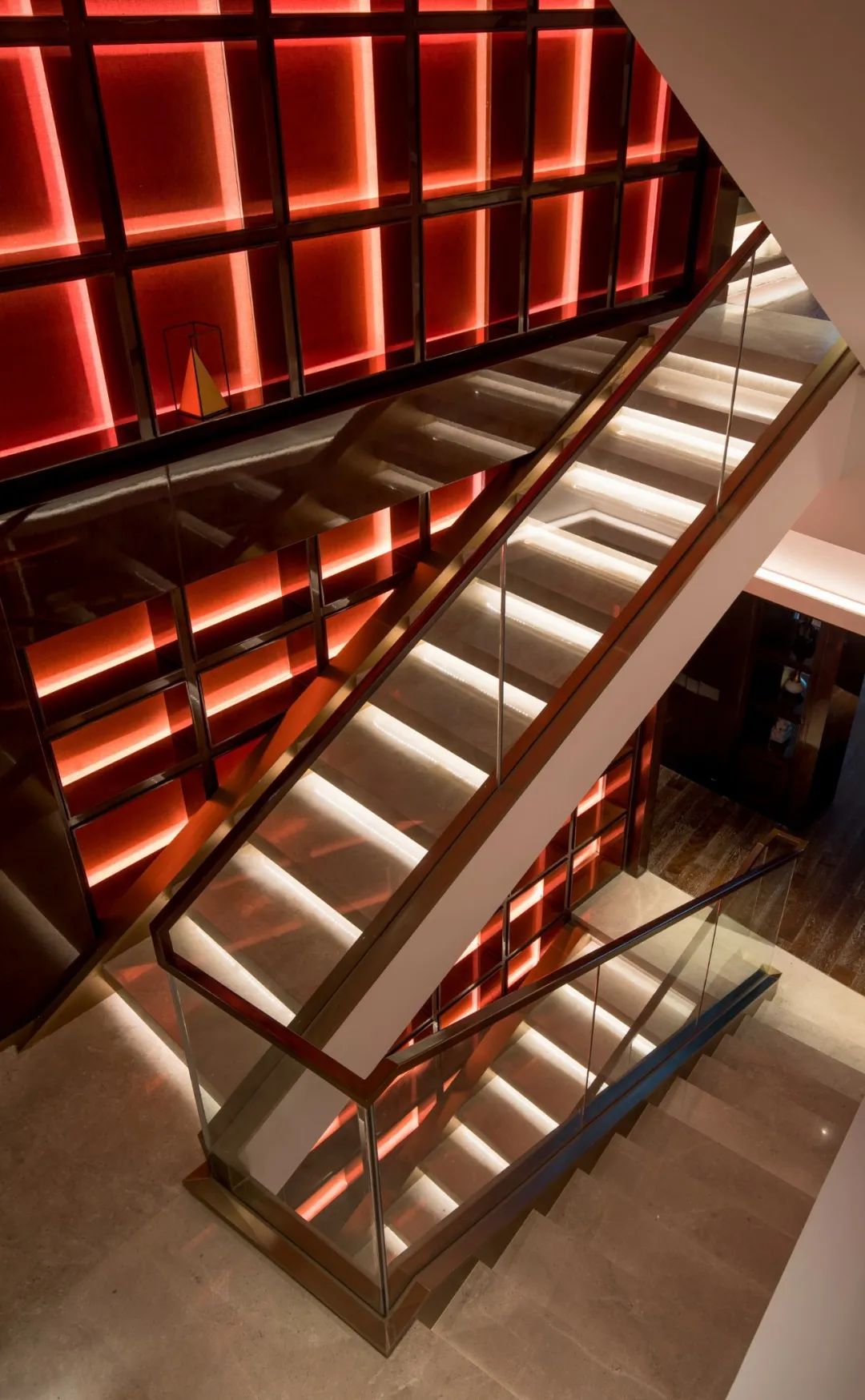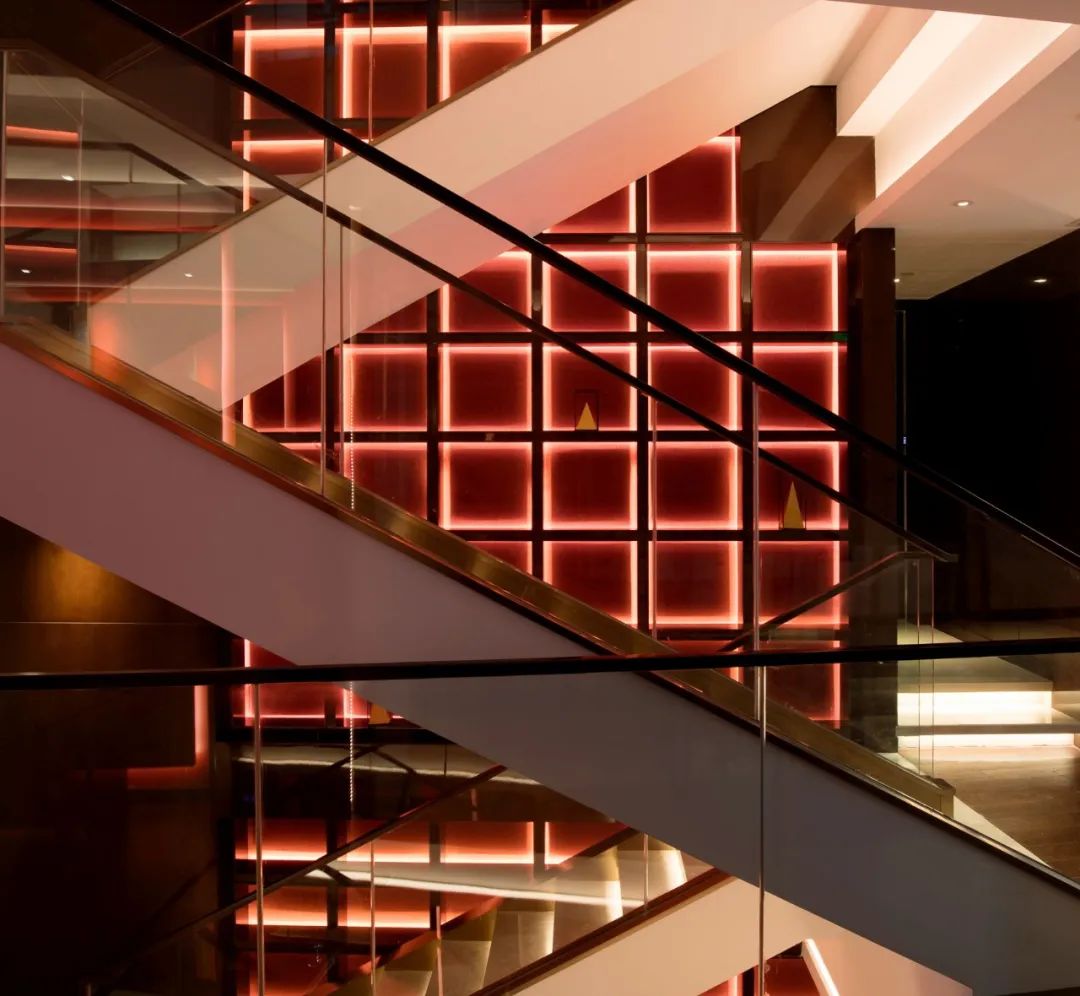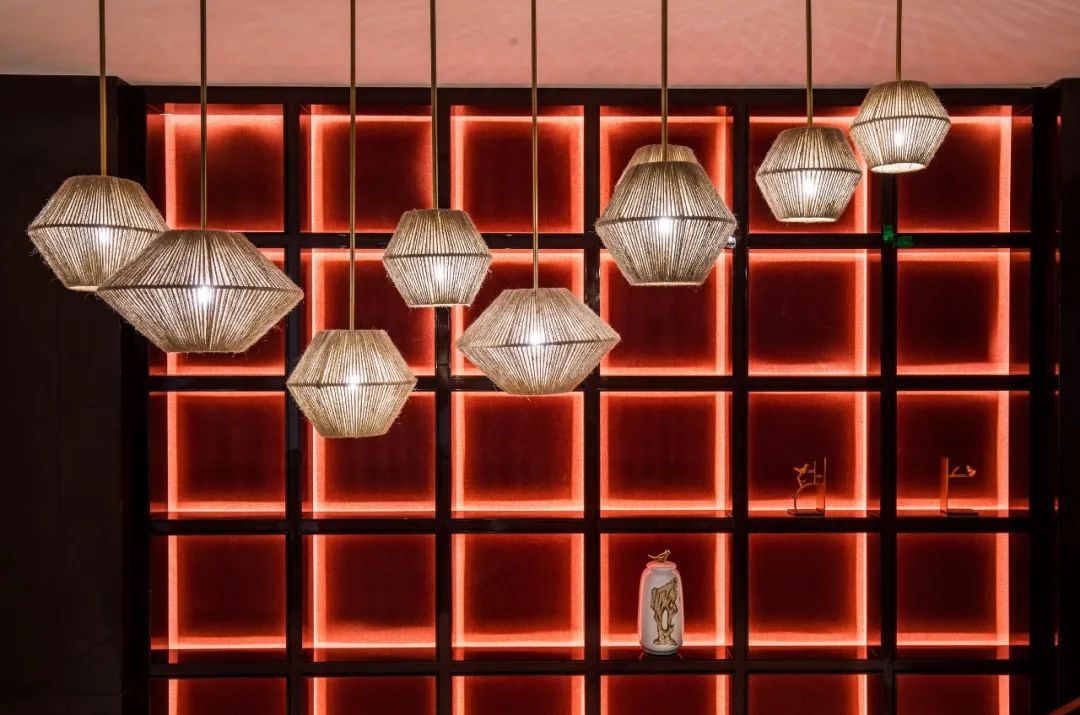 F36私人图书馆;古典高级灰木饰,让中式灵魂有了现代的外衣,顶天立地的大型书柜,书香浓郁,每一个书阁泛着点点金光。设计师运用点光源代替大照灯,空间明亮又有格调,轻盈灵动的赋予空间开阔的格局与气场,使得空间的尺度感得以充分拓展。
Designers use point light source instead of large light, the space is bright and stylish, light and flexible to give the space open pattern and aura, so that the sense of scale of the space can be fully expanded.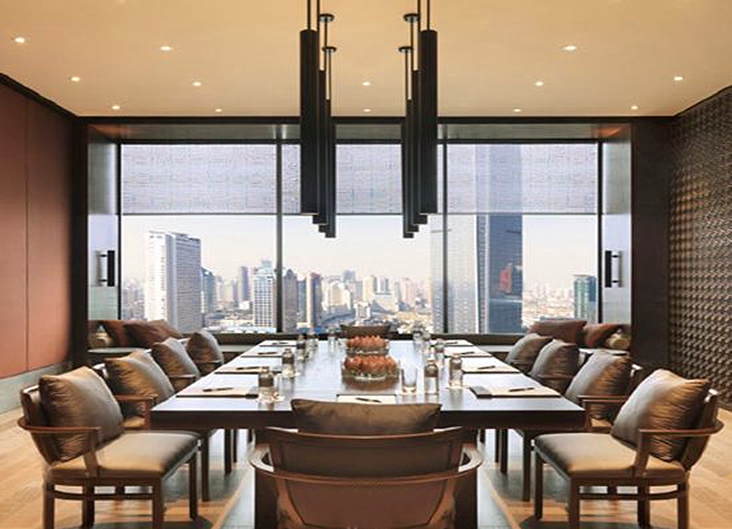 图书管旁的水吧,背墙延续整体风格,同样的顶天立地的巨型书柜,搭配宋风古画,高挑的吧椅,点缀中国红,京味古韵在此刻灵活了起来。
The water bar next to the library, the back wall continues the overall style, the same sky-high giant bookcase, with Song style ancient paintings, tall bar chair, embellish Chinese red, Beijing flavor ancient rhyme at the moment flexible up.